Tomís Raritan River Railroad Page
www.RaritanRiver-RR.com
<![if !vml]>

<![endif]>
Stations of the Raritan River Railroad
The Raritan River had a number of stations in its day.† The line ran from South Amboy to New Brunswick, via Sayreville, Parlin, South River, East Brunswick, and North Brunswick.† Stations ranged from multi-storied brick buildings, wooden structures, to just plain shelters.† In some cases, there was no shelter at all, and the stop was listed purely as a Flag Stop.† In the boom times of WWI, the Raritan River Railroad moved many thousands of people (9000 people per day) to the many munitions plants and factories on the line.† In later years when passenger service ended, the station list was cut back to just the freight houses.† In the end, only one station survives today, the Milltown Freight Station.† (Some concrete exists near the site of the Bergen Hill Station)
South Amboy 1888 Ė 1938
0.0 miles
Phone and Water listed in 1912
The first station on the Raritan River was always South Amboy.† The office on John Street was used as the passenger waiting room.† I donít have a lot of information on the early passenger operations of the South Amboy station.† I also donít have a single picture of a Raritan River train in front of the John Street Office.
The New York and Long Branch owns the tracks here, and they also had stations in the immediate vicinity.†
In later years, the John Street office was the official office and headquarters of the Raritan.† Bob Kipp closed the office down after Conrail took over, and took everything out that Conrail didnít want.† (including some of the pictures seen below)
Stevenís Avenue 1917-1938
0.3 miles
<![if !vml]>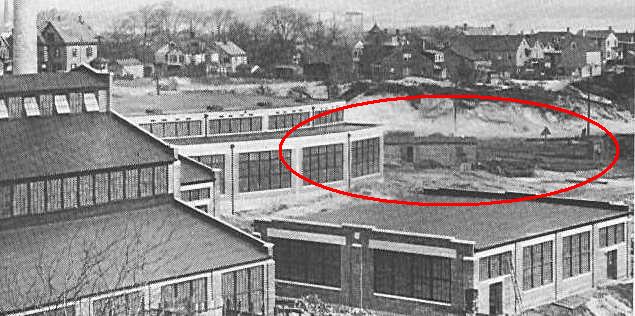 <![endif]>
Combo Car in vicinity of Stevens Ave is probably
used as the Stevens Avenue Station
Note the triangle shaped grade crossing sign
1919
The Stevenís Avenue structure was never a fully staffed station.† It was reported to be just a shelter and then a retired Combination Car Number 10 or number 11 was reported to be used as a shelter for the stop.† It first appeared in the timetables starting in 1916 or 1917, during the WWI rush.† Understand that the stop predates the shops and round house here, as they were not built until 1918.† The original shops were across the street, with the original turntable down near Catherine Street next to the NY & LB connection.
Bergen Hill Station
1.1 Miles
No phone in 1912
<![if !vml]>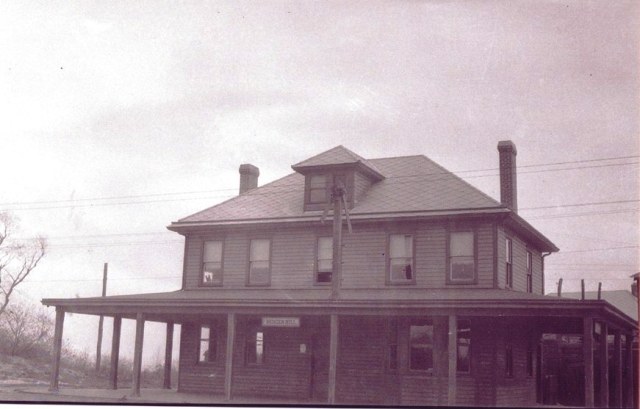 <![endif]>
Bergen Hill Station
1917-1923?
From the collection of Al Baumann
He is a super rare shot of the Bergen Hill Station.† Rumored to only exist as a small shelter, this picture from the collection of Al Baumann clearly shows the Bergen Hill Station in its best of days.† Today, the foundation for the massive structure is all thatís left.
Click here for a great story regarding how Don Zrebiec found the exact location of this long lost station.
The Bergen Hill Station was on all timetables from 1912-1941.† It was my understanding that the Bergen Hill Station served as the South Amboy Agency until shortly after passenger service ended.† After that, the functions were combined into the Parlin station and the Bergen Hill Station was demolished.
Roberts 1888-1914?
2.2 miles
Listed as having a phone in 1912
I have no pictures of the Roberts Stop.† I know Roberts crossing was pictured in Rails up the Raritan.† It was a grade level crossing, at the time, also with a Public Service Trolley crossing also.
I am not certain exactly where this was.† It was not included in Timetable No. 76 July 19th, 1915.
Melfort 1888-1912 renamed
2.8 miles
Suchs 1912-1916?
2.8 miles
Melfort listed as having a phone in 1912
<![if !vml]>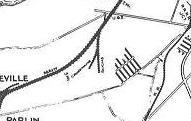 <![endif]>
Suchs was always known to me as a Sand and Clay industry near Crossmans.† In fact, it was understood that the original connection to the Pennsylvania Railroad in 1888 was over Suchsí siding, affording him a small fee for every car interchanged.†
Since this was indeed a small stop, it could have been for the workers of Suchsí and Crossmansí Sand and Clay pits.† This stop last shows up on my No.76, 1915 Timetable.† It is gone by No.83, 1917.† Further research in to timetables No 77-82 are needed to exactly pinpoint when it disappeared.†
Sayreville Junction 1888-1938
3.6 Miles
Listed as having a phone in 1912
<![if !vml]>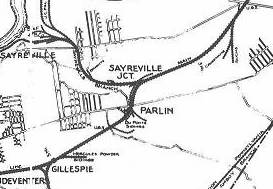 <![endif]>
It is unclear to me what facilities may have existed at Sayreville Junction.† This was a classification yard where the Freight sorted for its runs for the day.† The Sayreville Branch also began here.† There was once a wye in the yard, which was removed after 1937.
It should also be noted that at one time the Sayreville Branch did have passenger service.† Rails up the Raritan said that service was ended once the Public Service Trolley came to town via Main Street in 1901.† It is interesting to note that Sayreville Station still exists as a name on some maps like Yahoo and Mapquest.
Thatís pretty amazing for service would have ended 105 years ago!
<![if !vml]>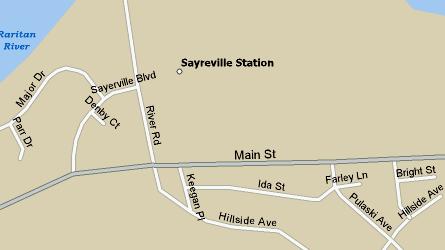 <![endif]>
Parlin 1888-1938
4.0 Miles
Listed as having a phone in 1912
<![if !vml]>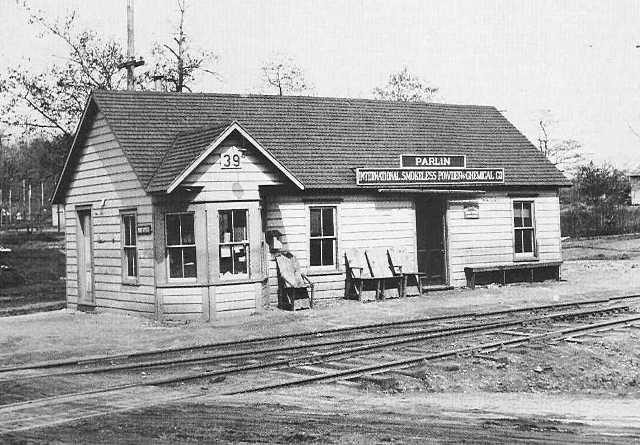 <![endif]>
First Parlin Station 1910?
Al Baumann Collection
Note the Post Office Sign on the left side
Right side was rented out to International Smokeless Powder Chemical Co which eventually be absorbed by Dupont.
<![if !vml]>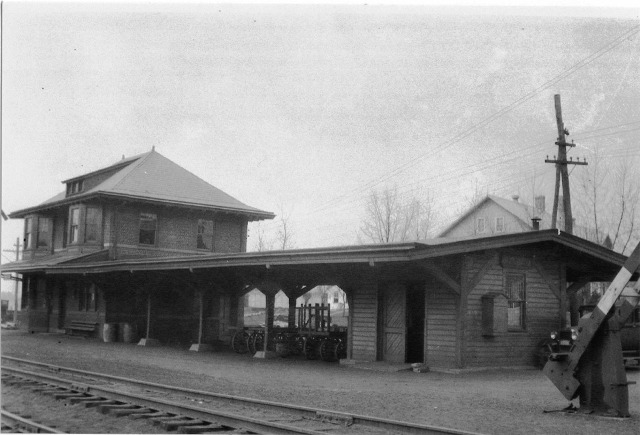 <![endif]>
Second Parlin Station early 1920s
Bob Kipp Collection
Note the large overhang, it didnít last very long
The Parlin Station is one of the famous stations of the Raritan River.† Before being rebuilt in the 1910ís, the first station was a small wooden structure similar to the Milltown station.† The first Station was also in the Movies!† The silent movies of the time by FOX used the Parlin area in a number of their movies.
I have many more pictures of the Parlin Station.† For more pictures of the Parlin Station click Here:
Parlin Station 1920-1983
Edgars 1888?-1915
5.0 Miles
Listed as having a phone in 1912
Last showed up on Timetable No. 77
Sept. 20, 1915
Renamed and moved 1/10 mile during WWII
Gillespie 1917?-1938
5.1 Miles
I have no photos of the Gillespie stop.†
It was noted in Rails up the Raritan that the Gillespie Branch was constructed during WWI to access the T Gillespie Powder Works.† It was also noted that due to its isolated location, passenger trains were run right into the plant, as there was no real way to access the plant by foot!† The Branch was abandoned soon after WWI, but the station stayed until the end in 1938.
Vandeventers 1888?-1938
5.8 Miles
Listed as having a no phone in 1912
I have no pictures of this stop.† Vandeventers was a small stop at the Jernee Mill Road crossing.†
There were a small group of industries along Jernee Mill Rd. that could have benefited from this stop.
South River 1889?-1938
6.4 Miles
Listed as having a phone in 1912
<![if !vml]>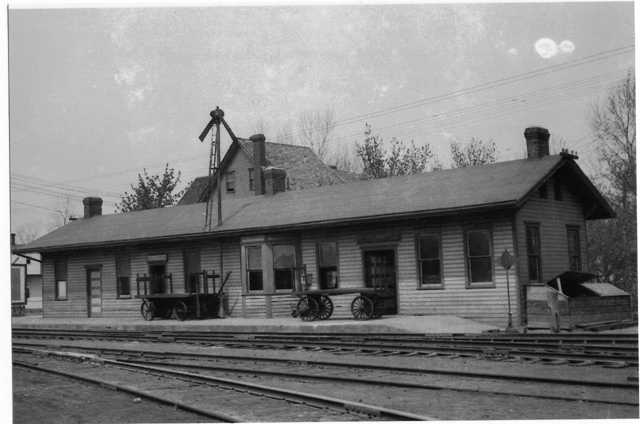 <![endif]>
South River Passenger Station 1920s?
From the Bob Kipp Collection
South River had a big long wooden Passenger Station, as well as a big wooden Freight Station.† South River was always an active spot.† There was a big handkerchief factory that, right from the early days, used the Raritan for freight.† The South River Branch was built in 1905 and soon started producing a steady stream of freight.
For more pictures of the South River Passenger Station, as well as a picture of the great fire that Leveled the Freight Station, click here:
South River Pictures
Serviss Junction 1889?-1938
7.9 Miles
Listed as having a phone in 1912
I have no photos of this stop.† The Serviss Branch was built in 1889 and extended a mile or so north into East Brunswick.† By 1901, the line was extended another 4 miles, continuing north crossing RT28 (later became RT18) went back around into South River, terminating at Reid Street.† This stop was probably to service the few industries located along this Branch.
Milltown Station 1891-1938
9.9 Miles
Listed as having a phone in 1912
<![if !vml]>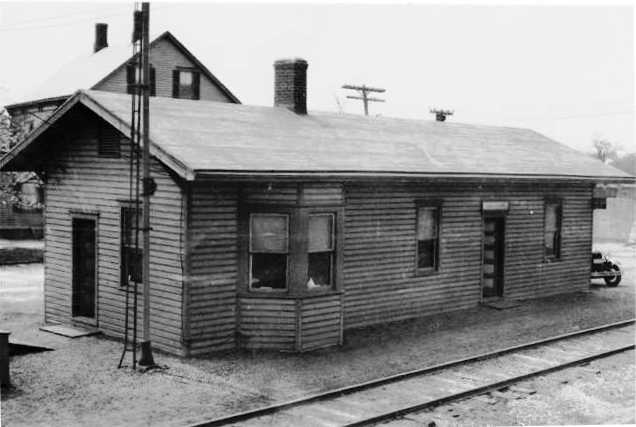 <![endif]>
Milltown Station 1920s?
Bob Kipp Collection
The Milltown Station was a very unique building.† In this picture, the building is known as the Milltown Passenger Station.† After passenger service ended in 1938, the building was rehabilitated, lifted off the ground, and moved 100 feet to the left.† Once rented out by its current owners, today the station sits vacant waiting to be saved.
For a great story I wrote about the station for the Boro of Milltown, click Here
For more pictures of the Milltown Station, click here
New Brunswick Station 1891-1938
12.3 Miles
Listed as having a phone in 1912
<![if !vml]>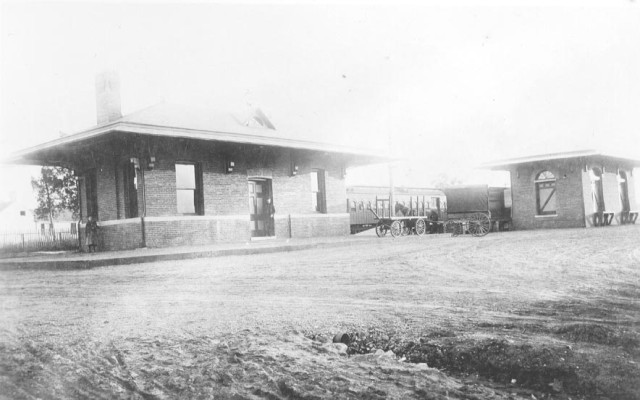 <![endif]>
New Brunswick Passenger and Freight Stations 1901?
Bob Kipp Collection
This was the end of the line for the Raritan River Railroad.† Although they started their charter with ambitions to go across New Brunswick into Bound Brook, they never made it.† This final terminal was constructed in 1901.
For more pictures of the New Brunswick area, click here.
Questions? Comments?
Other Fine Sites Dedicated to the Raritan River Railroad
http://www.geocities.com/transit383/rrhist.html
http://jcrhs.org/raritanriver.html
Here is an entire forum dedicated to discussions of the RRRR!
www.railroad-line.com/forum/forum.asp?forum_id=2
http://www.preservationnj.org/default.asp