Tom's Raritan River Railroad Page
www.RaritanRiver-RR.com
<![if !vml]>

<![endif]>
Forgotten History
of the
Raritan River Railroad
Ducks Nest Pond in Sayreville
Version 1.1
04/1/2007
<![if !vml]>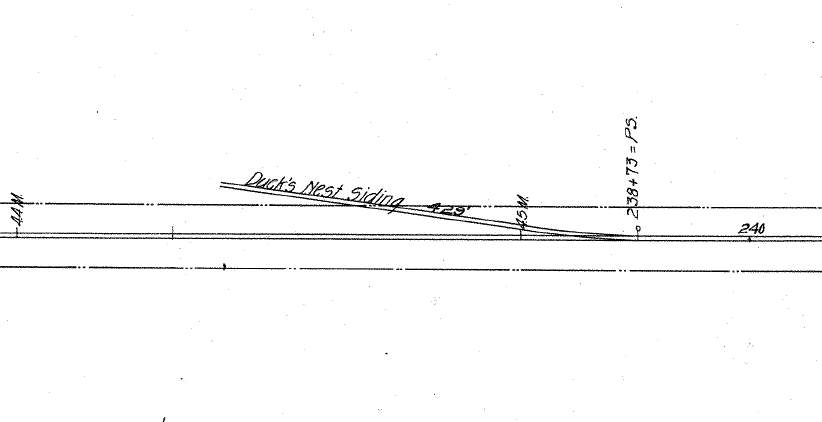 <![endif]>
Fig. 5
The infamous Ducks Nest Siding at exactly mile marker 4.5 M
See story here regarding the train that ran into Ducks Nest Swimming Hole in 1914!
Read below to see how Ducks Nest was also an official passenger "Flag Stop" for 11 years

Ducks Nest Pond was an unofficial stop for many years on the Raritan River Railroad. It showed up as a note at the bottom of some of the time tables, although it was never listed as an official station.

http://maps.google.com/maps?f=q&hl=en&q=sayreville,+nj&ie=UTF8&z=17&ll=40.455634,-74.340652&spn=0.003796,0.010729&t=k&om=1

<![if !supportLineBreakNewLine]>
<![endif]>
<![if !vml]>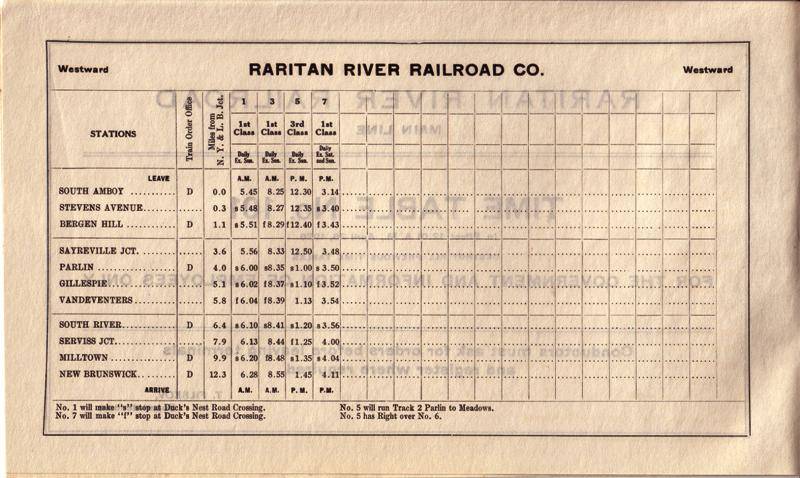 <![endif]>Fig. 2 RRRR Timetable 101 Westbound
 

Timetable 101 - 4/26/1926 first mentions Ducks Nest as a stop in the notes in the bottom of the timetable.

Westbound:
"No.1 will make "s" stop at Ducks Nest Road Crossing." (about )
"No.7 will make "f" stop at Ducks Nest Road Crossing." (about 3:51AM)

Eastbound:
"No.2 & No.6 will make "f" stop at Ducks Nest Road Crossing." (about and )

"s" is an official stop.
"f" is a flag stop where some one must flag the train or tell the conductor to get it to stop.

Timetable 106 - 10/1/1928 continues to list the stop as Ducks Nest Road Crossing.

<![if !supportLineBreakNewLine]>
<![endif]>
<![if !vml]>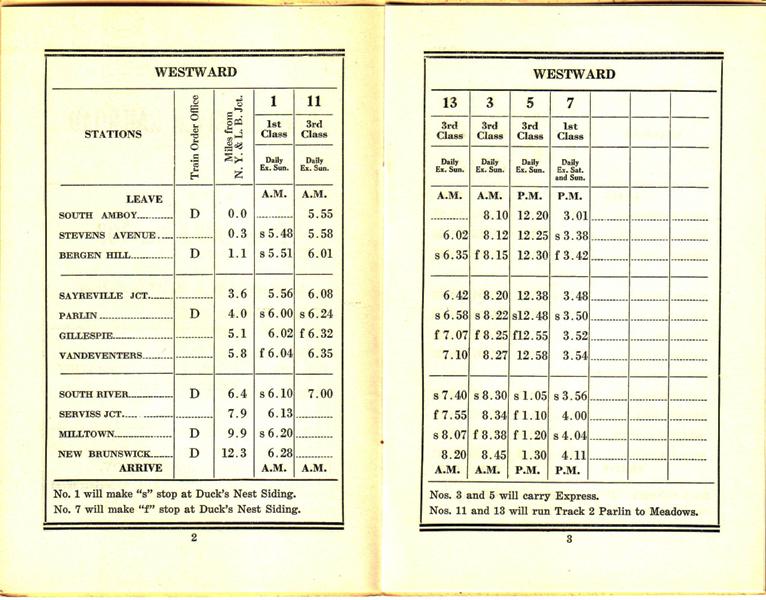 <![endif]>
Fig. 3 RRRR Timetable 109 Westbound
By Timetable 109 - 4/28/1930, the stop is now listed as Ducks Nest Siding in stead of Ducks Nest Road Crossing.

The last official "s" (full stop) status was Timetable 115 - 5/1/1933.

<![if !supportLineBreakNewLine]>
<![endif]>
Starting with Timetable 116, Ducks Nest was only listed as a F (flag stop).

"No1. & No.7 will make "f" stop at Ducks Nest Siding"

Staring with Timetable 122 - 9/28/1936, train No.7 no longer carries passengers.

The end came in Timetable 123 - 4/26/1937 which has no mention of Ducks Nest as a flag stop.


Conclusions:

It can be said that Ducks Nest was an noted stop from April 1926 to April 1937. Almost 11 years!

For the first 7 years it was an official stop, at least for train No.1, and for the next 4 years it was a flag stop.

Simply stated, in the late 1920s, if you left South Amboy on Train No.1 at , you would get dropped off by the regular stop at Ducks Nest. To get home, you would need to flag the passing train, No.6, at to get home to South Amboy.

If coming from New Brunswick, you would need to tell the conductor to let you off at , and if you were lucky, he might remember to pick you up at to get back to New Brunswick!

Now there is more to the story of Ducks Nest, as we know there was a siding there. This implies that they either delivered freight, or stored cars, possibly passenger cars for patrons at the lake. We also know that Ducks Nest was in the Black and White soundless movies of the 1910s, so it was already established as a recreational area long before the 1920s.


http://www.raritanriver-rr.com/RRRRinMovies.htm

In 1914 they filmed a crash at Duck's Nest Pond, now part of Bailey Park in Sayreville. The Fort Lee-based Vitagraph company filmed a sequence for the film "The Juggernaut" there in which an engine and three cars filled with dummies plunged down a trestle.

"They built a stand (in the pond) for the cameraman to film the sequence," said Mark Nonesteid, assistant curator of the Middlesex County Museum in Piscataway. "When the train went into the water, the waves from the impact almost knocked him off."

The dummies were popping up around town for several months afterward, Nonesteid said. The train wasn't retrieved until 1938 when a Perth Amboy company fetched the wreck for scrap.

Unbelievable that people were swimming in a lake with a train at the bottom of it for over 30 years!

If anyone knows where we can find a good copy of this movie, "The Juggernaut", or any of the movies made on the Raritan River involving Pearl White in the "The Perils of Pauline" series from the 1910s, please don't hesitate to contact us at RRRRHS at GMail.com or Tom_E_Reynolds at Yahoo.com
<![if !supportLineBreakNewLine]>
<![endif]>
<![if !vml]>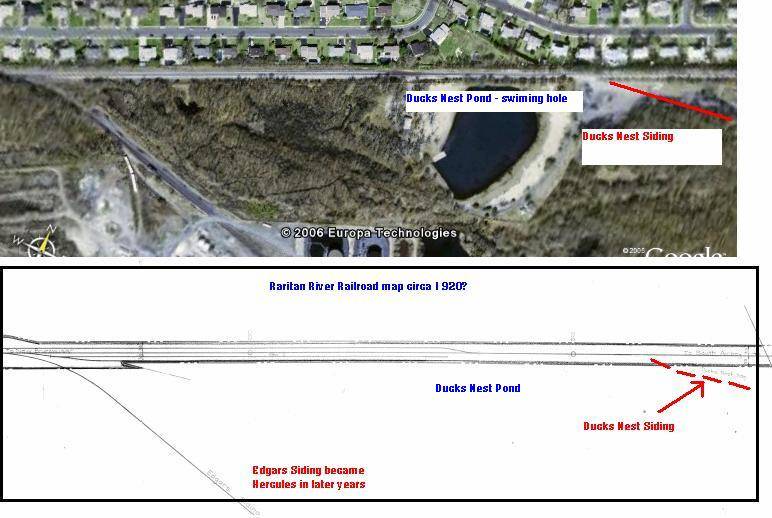 <![endif]>
Here is a picture I crafted, a side by side Google Earth photo and a RRRR Map from about 1920, showing the relative location of Edgars (Hercules) Siding, Ducks Nest, and Ducks Nest Siding.

It is nice to now know exactly where Ducks Nest Siding was!

 

Note that in the Google Earth photo, there seems to be an abandoned ROW in the woods directly between the Edgars Siding connecting to the bottom of Ducks Nest Pond. One wonders if this was the ROW that they used in the silent movies in 1914 when they ran a train right into the lake? One thing that is clear, they couldn't have used Ducks Nest Siding, as it didn't go towards the lake.

Here is an enlarged version of the above map that shows Ducks Nest Siding:
<![if !supportLineBreakNewLine]>
<![endif]>
<![if !vml]>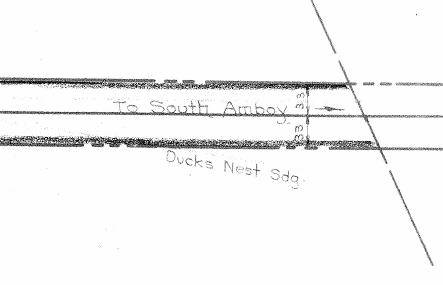 <![endif]>
Questions? Comments?
Here is an entire forum dedicated to discussions of the RRRR!
www.railroad-line.com/forum/forum.asp?forum_id=2