Tom's Raritan River Railroad Page
www.RaritanRiver-RR.com
<![if !vml]>

<![endif]>
Forgotten History
of the
Raritan River Railroad
Forgotten traces of the RRRR as seen in the three official Raritan River Rail Road Company maps from 1910-1915, second set from 1948-1958, and the last set from the late 1960s.
Version 1.1
04/8/2007
Original Turntable at Catherine Street
Original Shops 1915
Stevens Ave Shops 1958
Ducks Nest Siding
Edgars Station
Vandeventer Station
Furmans Branch Line
South River Yard
Jacqarts Siding (Parallel to Harts Lane)
Ryders Lane Loading Platform 1915
Feltus Street Realignment
Original Crossmans Aligment
Parlin Station area 1948
National Fireproofing Narrow Gauge crossing
Original Sayreville Junction 1900
(before the storage tracks or classification yard)
Sayreville Junction Station
Sayreville Branch Station
Milltown Station
New Brunswick Terminal
Serviss Branch shared water tank with Narrow Gauge line
Lyles Station on Serviss Branch
<![if !vml]>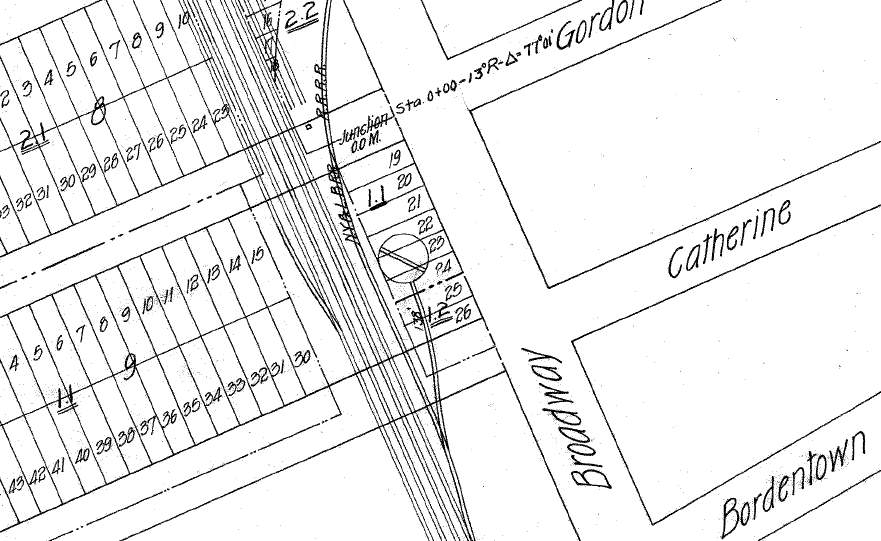 <![endif]>
Fig. 1
Original Turntable at Catherine Street
Original location of the turntable in South Amboy
Catherine Street and Broadway
This was changed when the new shops were built at Stevens Ave in 1919.
<![if !vml]>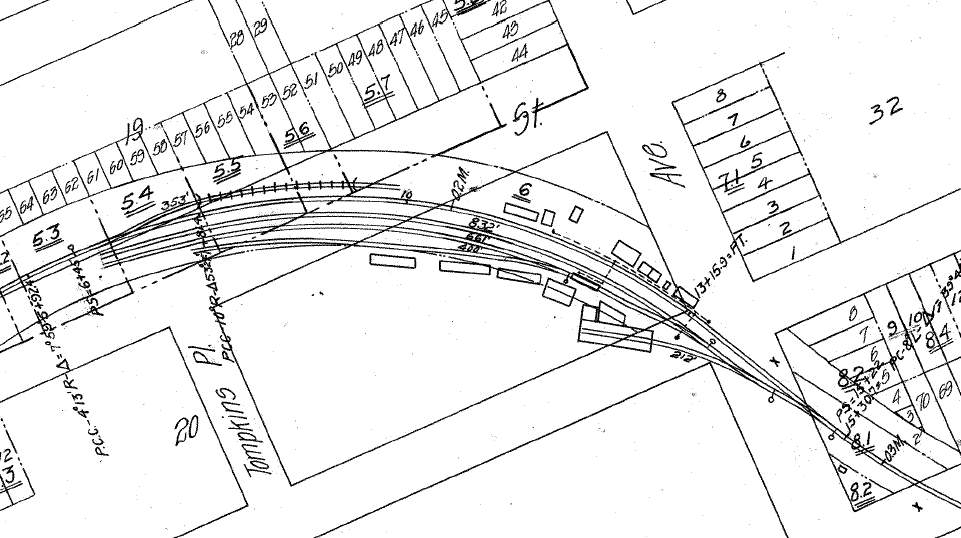 <![endif]>
Fig. 2
Original Shops 1915
The shops were originally here before 1919 when the shops were moved into block 32.
<![if !vml]>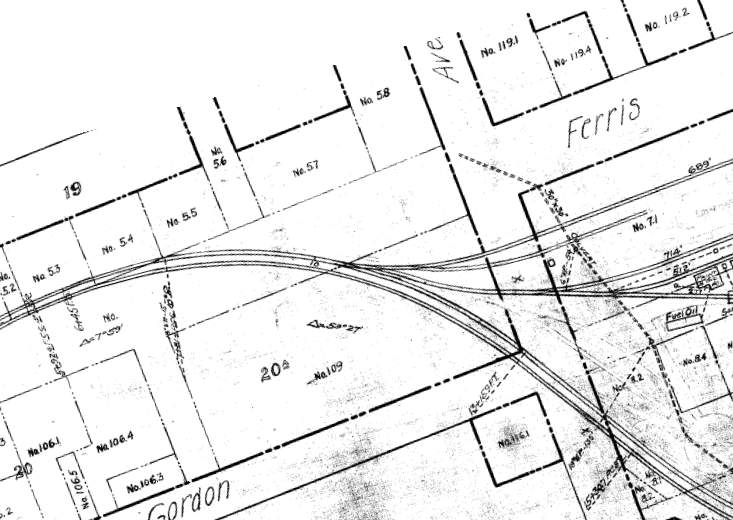 <![endif]>
Fig. 3 
Stevens Ave Shops 1958
Shows location of the "new" shops built into block 32 in 1919.
No traces of the old shops exist.
<![if !vml]>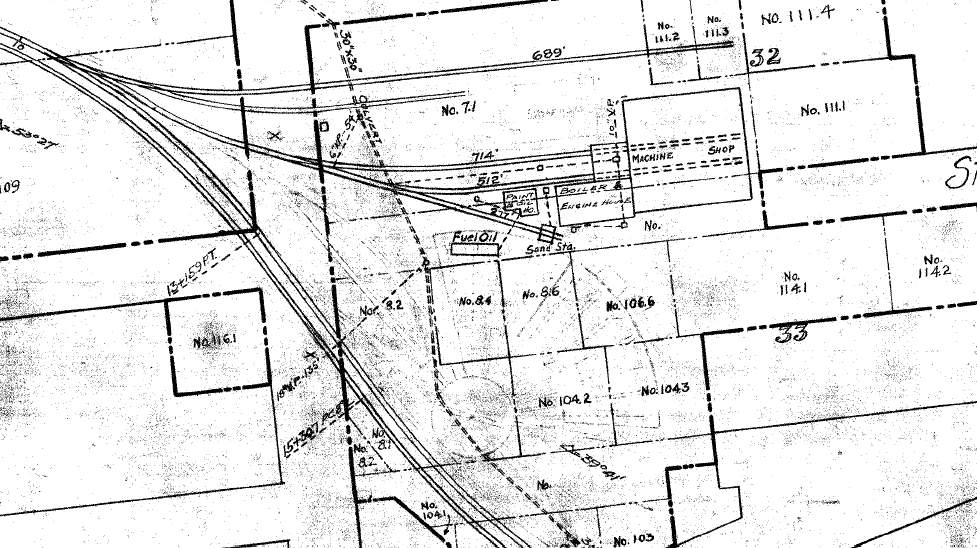 <![endif]>
Fig. 4
Stevens Ave Shops 1958
Expanded view of the shops from a 1958 official RRRR Co. Map
Note the "erased" location of the tracks, turntable and roundhouse!
<![if !vml]>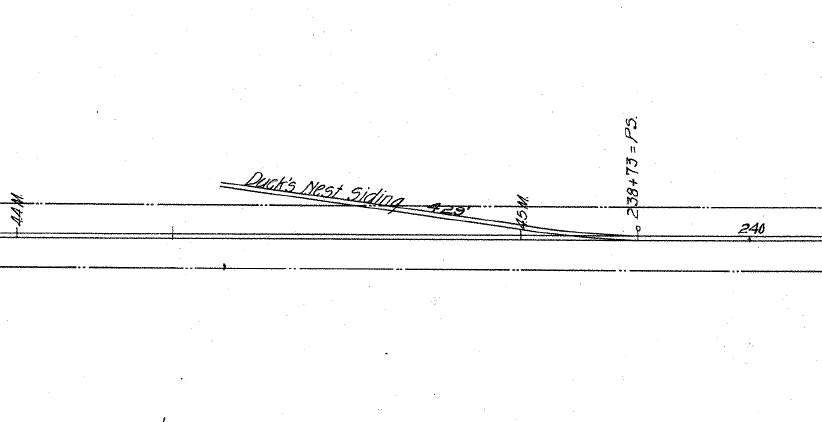 <![endif]>
Fig. 5
Ducks Nest Siding
The infamous Ducks Nest Siding at exactly mile marker 4.5 M
See story here regarding the train that ran into Ducks Nest Swimming Hole in 1914!
See story regarding how Ducks Nest was also an official passenger "Flag Stop" for 11 years
<![if !vml]>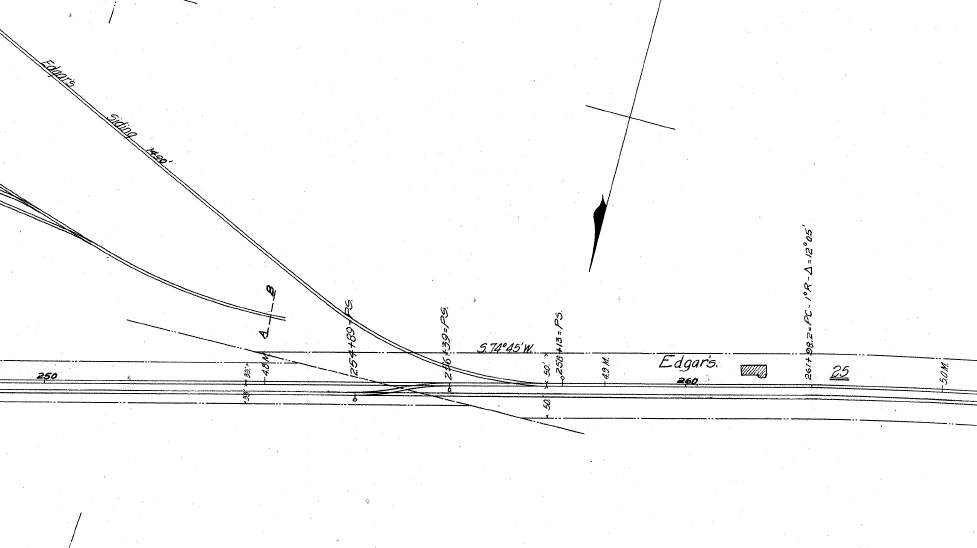 <![endif]>
Fig. 6
Edgars Station 1915
Long before there was a Gillespie Branch, a Gillespie Wye, or even a Gillespie Station, there was a stop located near by called Edgars at milepost 5.0.
When the Gillespie Branch was built in 1917 to service the T Gillespie Powder Works, the new Gillespie Station at milepost 5.1 was created 1/10 of a mile closer to where the Gillespie Branch would be, and the old Edgars station at milepost 5.0 was retired from the timetables.
See here for the last timetable I have that still lists Edgars Station.
<![if !vml]>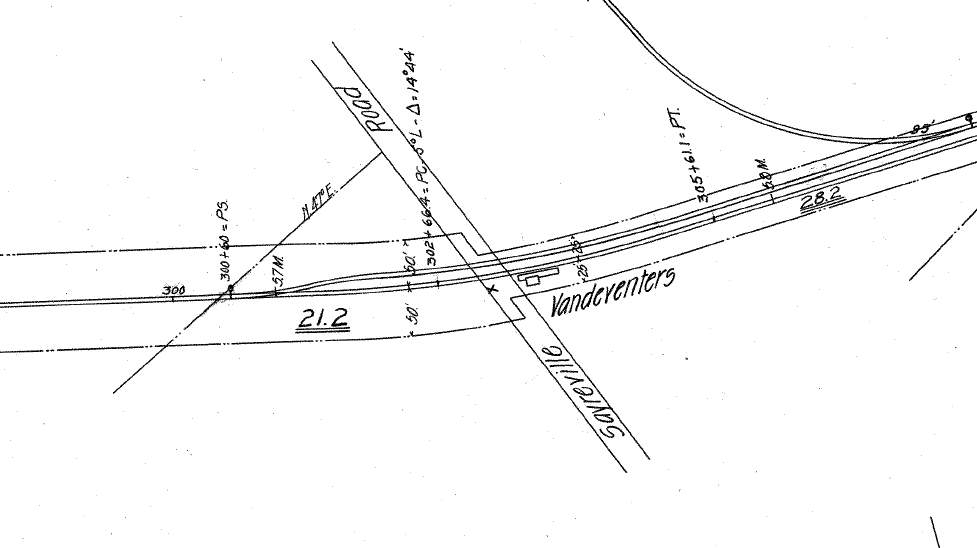 <![endif]>
Fig. 7
Edgars Station 1915
Many years ago, Jernee Mill Rd was named Sayreville Rd.
And off Sayreville Rd. was a stop named Vandeventers.
This stop was served up until the end of passenger service in 1938
<![if !vml]>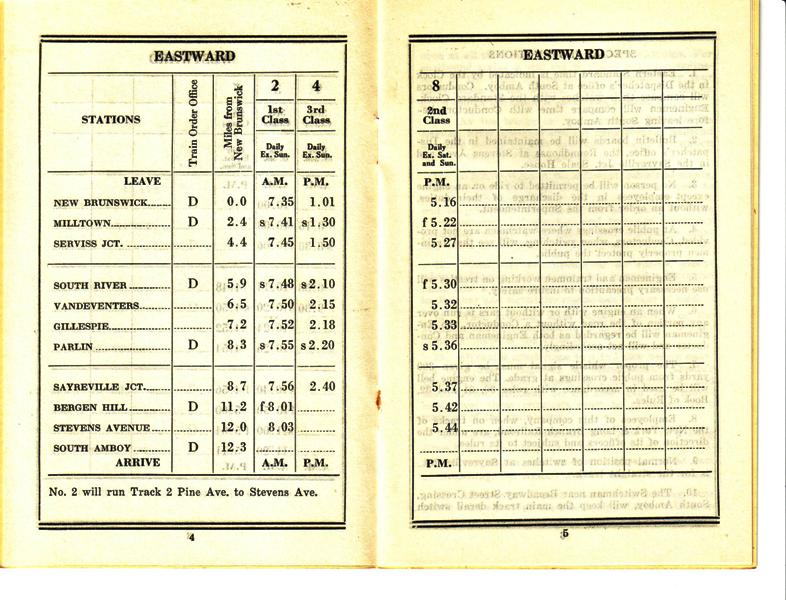 <![endif]>
Fig. 8
Last Official Passenger Timetable 1937
Official timetable, No. 124, Eastbound, September 27, 1937, listing all official stops.
Vandeventers was serviced three times per day, but only one 1st class passenger train.
Passenger service ended officially in April 18th, 1938. 
Timetables would continue to be produced for 3rd class trains, though, until 1941!
<![if !vml]>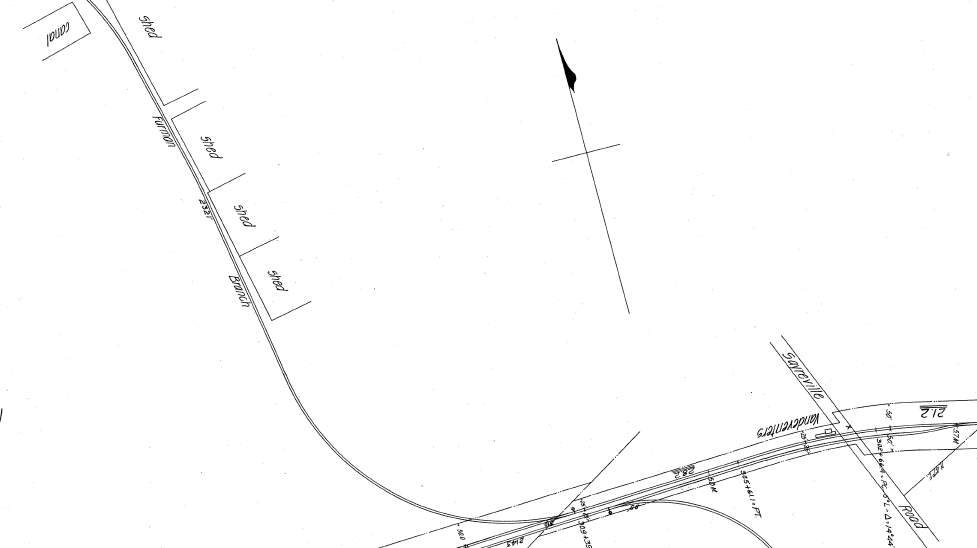 <![endif]>
Fig. 9
Furmans Branch Line 1915
Just past Vandeventers, but before the South River Swing Bridge, there was a long spur named the Furman Branch.
Read this fascinating story regarding rival brick makers Noah Furman and Willaim Fisher (of Sayer and Fischer) and how they started the Sayreville Riot of 1889!
<![if !vml]>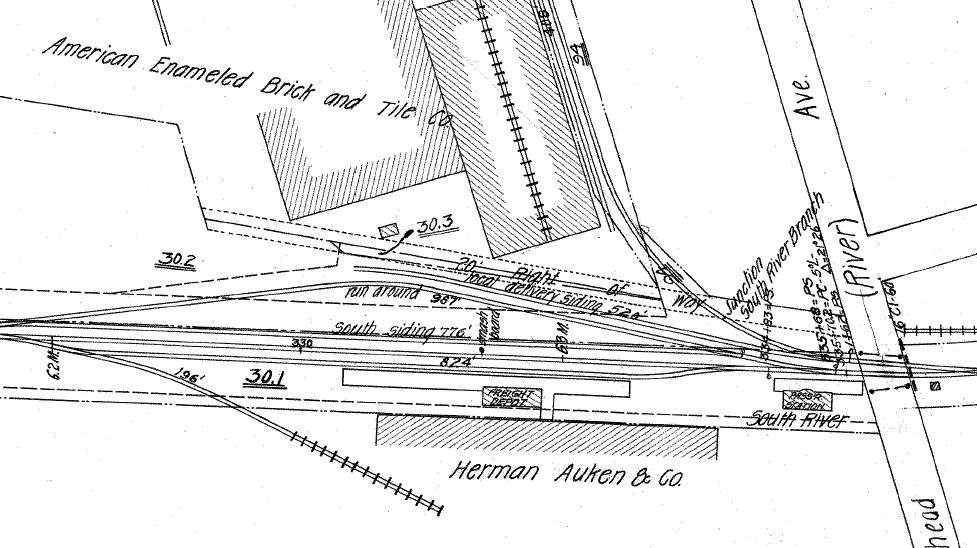 <![endif]>
Fig. 10
South River Passenger and Freight Stations 1915
An interesting picture of the South River area from 1915
Note the "run around" track that once existed around the yard, and both Passenger and Freight Stations.
See these links for more pictures of the South River area.
Pictures of both the First and Second South River Stations!
South River Fire – burned the Freight Station to the ground in 1969
<![if !vml]>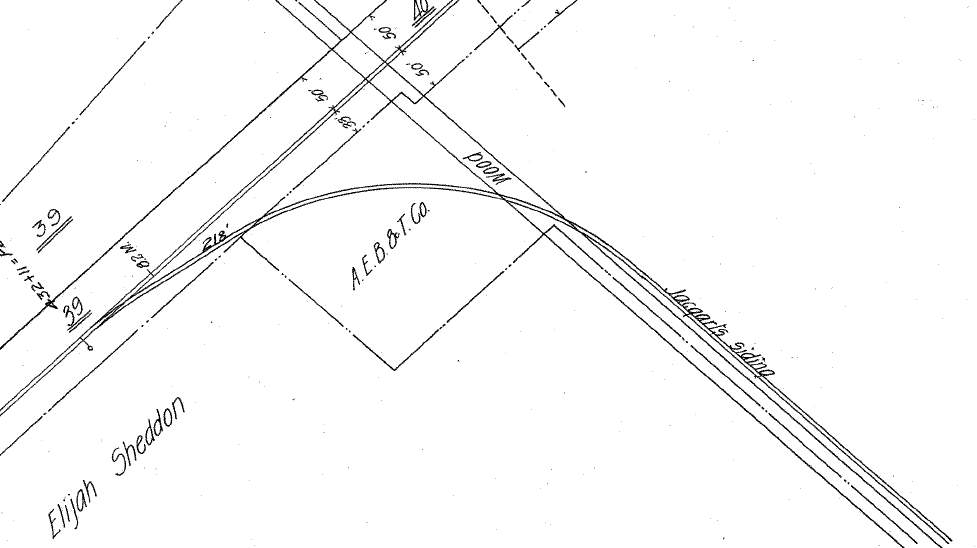 <![endif]>
Fig. 11
Jacquarts Siding in East Brunswick 1915
Many years ago, Harts Lane in East Brunswick was know as Wood Rd.
Jacqarts Siding ran from the RRRR main up along Harts Lane.
<![if !vml]>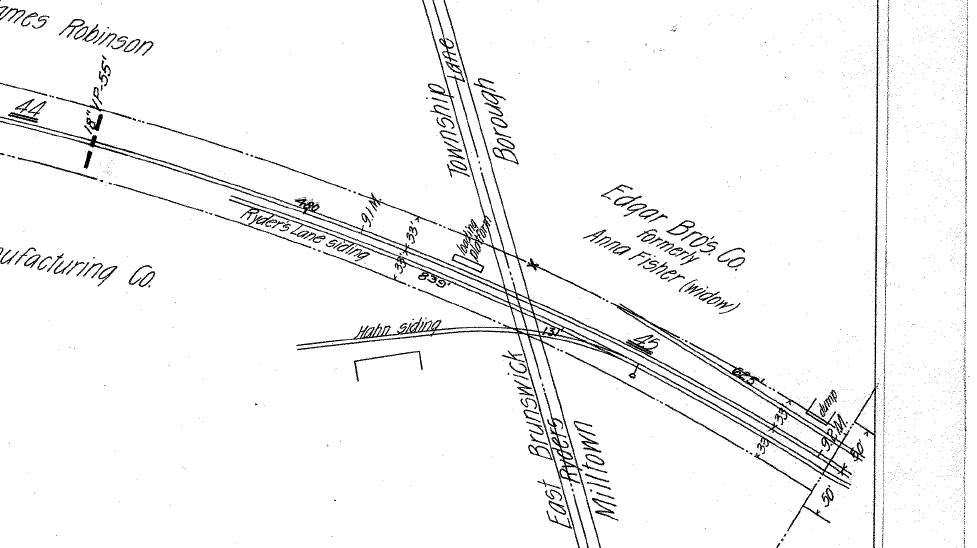 <![endif]>
Fig. 12
Ryders Lane Loading Platform 1915
Ryders Lane was once a bustling little place in 1915!
Note the "loading platform" next to Ryders Lane, possibly for boarding passengers?
<![if !vml]>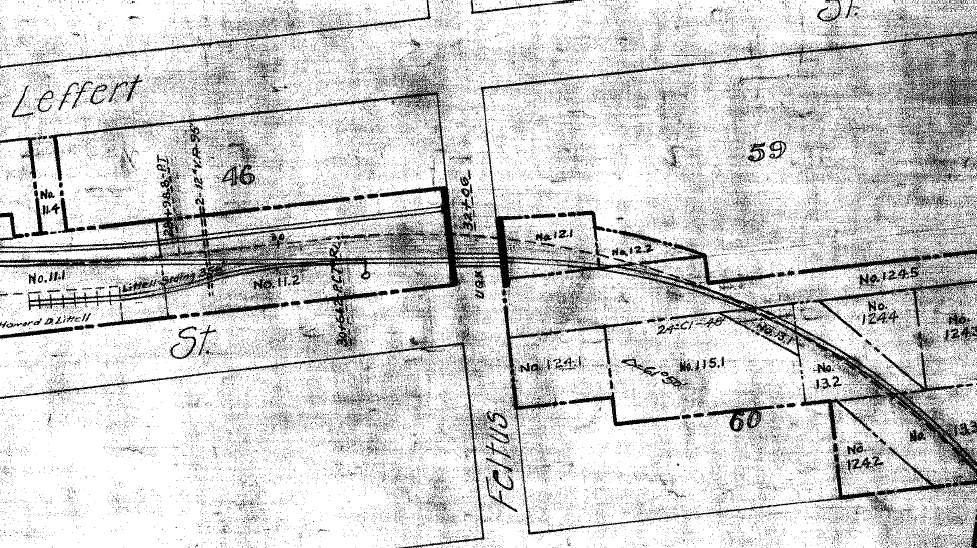 <![endif]>
Fig. 13
Feltus Street Re-Alignment
Feltus Street after the bridge was put in
Note the original alignment as seen in the dashed lines.
Some say that this picture shows the Feltus Street Bridge being built, with the original ROW in the background
<![if !vml]>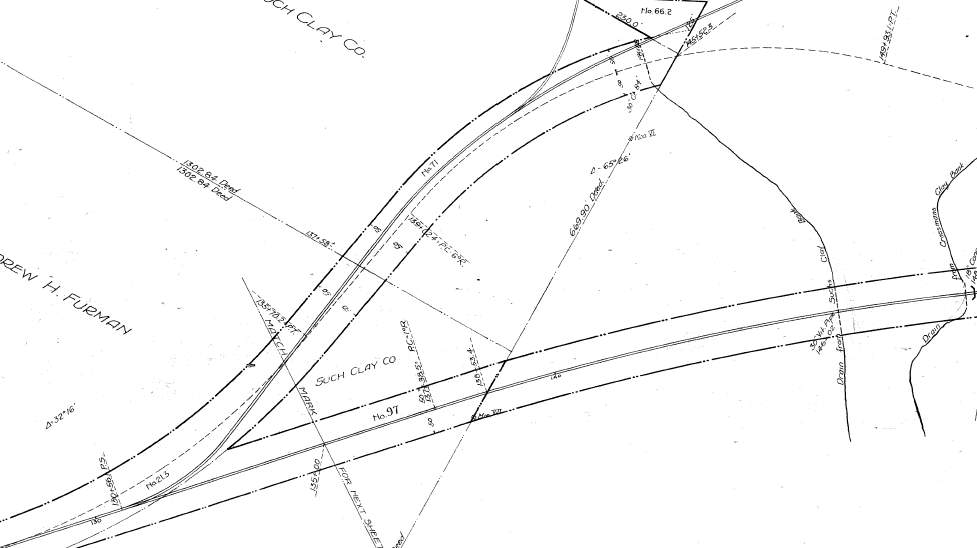 <![endif]>
Fig. 14
Crossmans Re-Alignment 1939
Old alignment through Crossmans as noted by the dashed line
This original alignment was apparently a very dangerous grade and curve as two wrecks of great proportion were recorded to have happened at this very spot.
Original newspaper account of the first wreck at Suchs' switch on July 3rd, 1899 as reported in the New York Times
Pictures of the second wreck in 1928.
<![if !vml]>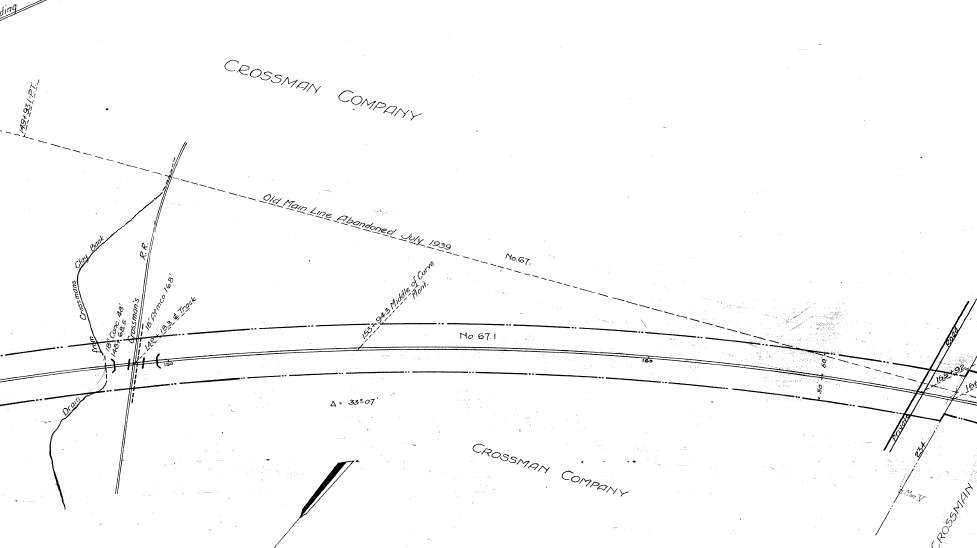 <![endif]>
Fig. 15
Crossmans Re-Alignment 1939
The deal made with Crossmans back in 1888 was that the RRRR could use the property (the original alignment), but Crossmans would still be the actual land owner.  Once all the usable clays were excavated out of the area, a new roadbed would be graded, and the rails would be laid.  Once the rails were laid, the original alignment would be abandoned, and Crossmans would then dig the usable clays out from the original area.
Amazing that this entire process took over 50 years to complete as the re-alignment didn't take place until 1939! 
(1888-1939)
<![if !vml]>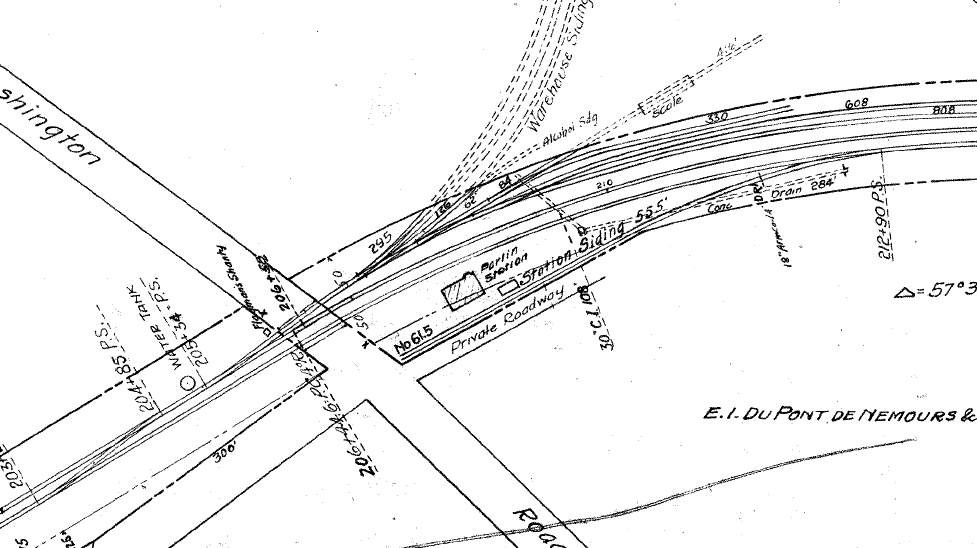 <![endif]>
Fig. 16
Parlin Station 1948
A great shot of Parlin from the 1940s
Showing the double track main line, the water tower, flagman's shanty, Parlin Station, small shed behind the Parlin Station, across the main is DuPont's switches and sidings, as well as a Station Siding in the back of the Parlin Station.
The "No.61.5" represents the property section, and section 61.5 was purchased from DuPont on October 12, 1915 when the Parlin Station was moved from across the Street.
See some "Then and Older Then" photos of the Parlin Stations.
<![if !vml]>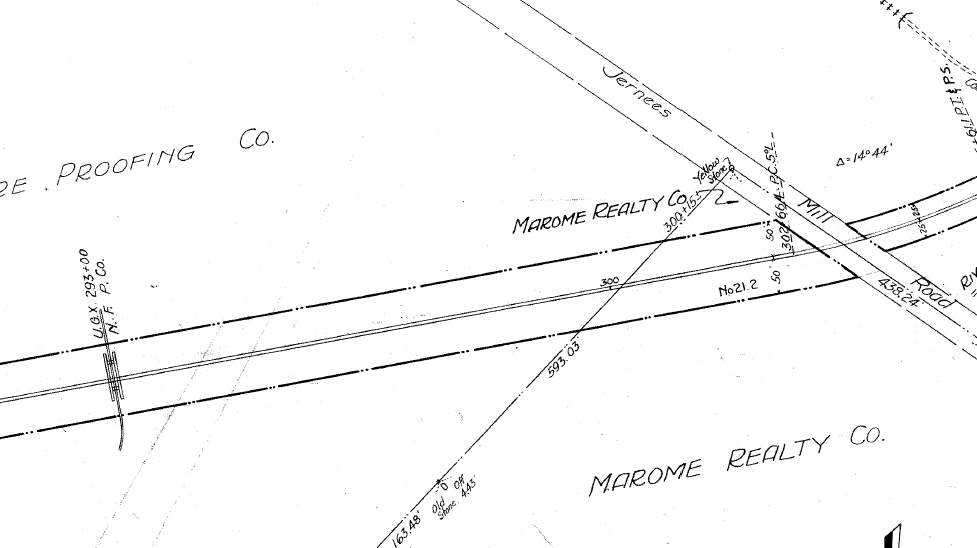 <![endif]>
Fig. 17
National Fireproofing Narrow Gauge crossing
The U.G.X at 293+00 designates an underground crossing of the Narrow Gauge Line for National Fireproofing Company in the 1940s.
A most amazing discovery made in 2006 is that this little bridge still exists on the main, and in fact there are still Narrow Gauge ties visible under the bridge!
See here for some then and now pictures of this bridge with a Narrow Gauge dump car from the 1930s.
<![if !vml]>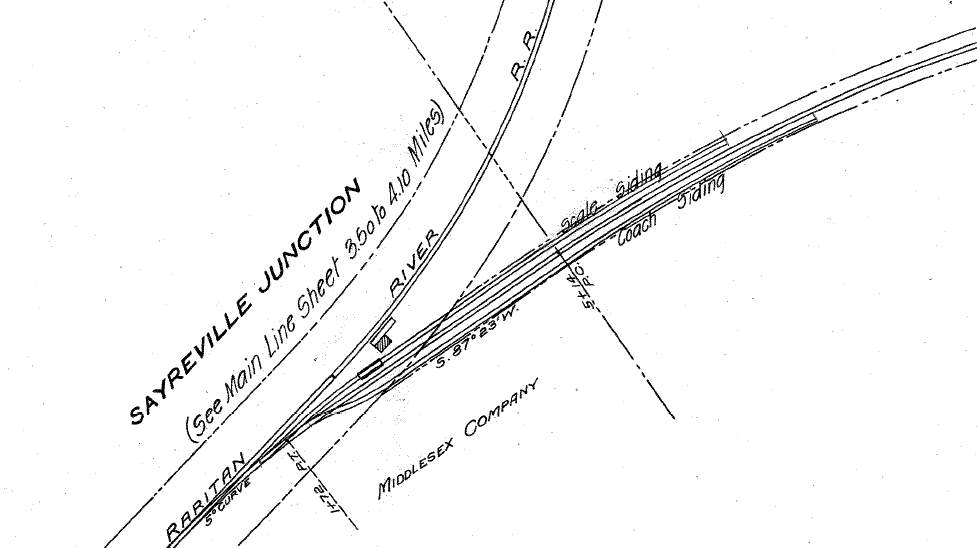 <![endif]>
Fig. 18
Original Sayreville Junction 1900
Long before Sayreville Junction was the place for classification of cars, it was just a small branch junction with a small passenger station.  This map probably dates to around 1900-1905
Note the single track main line, the passenger station, and lack of any storage or classification tracks.
Where did they sort the cars then in 1900?
<![if !vml]>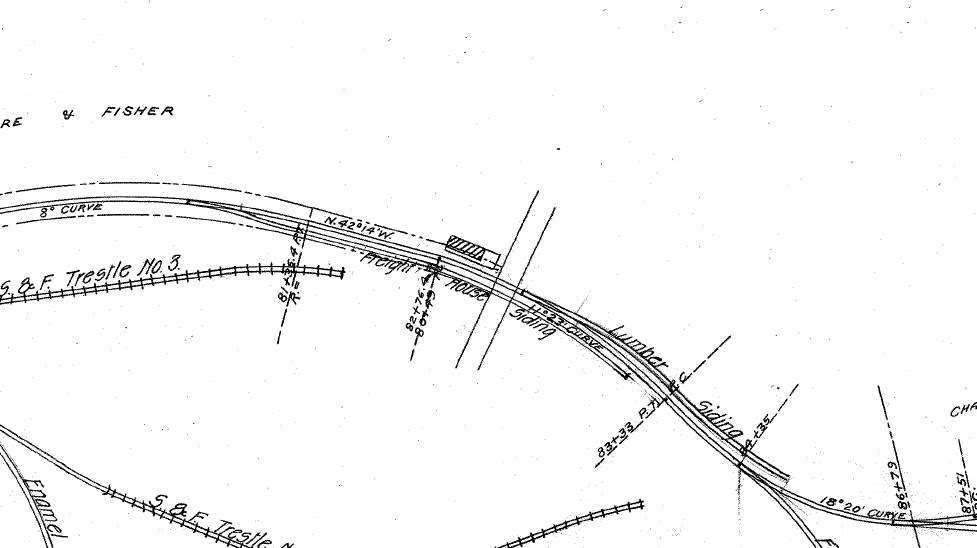 <![endif]>
Fig. 19
Original Sayreville Station 1900
(near Sayre and Fisher)

One of the great mysteries of the Raritan River Railroad may have just been solved!
The location of the infamous Sayreville Station!
From 1890 to 1901, the RRRR had passenger service on the Sayreville Branch.
It was reported in Rails up the Raritan that passenger service ended in 1901 when the Public Service Trolley came to town, and more specifically had a direct route to this area.  Passengers that would have used the RRRR would have had to possibly change trains at the main line at Sayreville Junction.
There is no official record of the exact location of the Station, other than to say it was mostly used by Sayre and Fisher employees and therefore was very close to their plant
This map seems to note the exact location of an equally unknown "freight house".
It is my belief that this location was also the passenger drop off area.
<![if !vml]>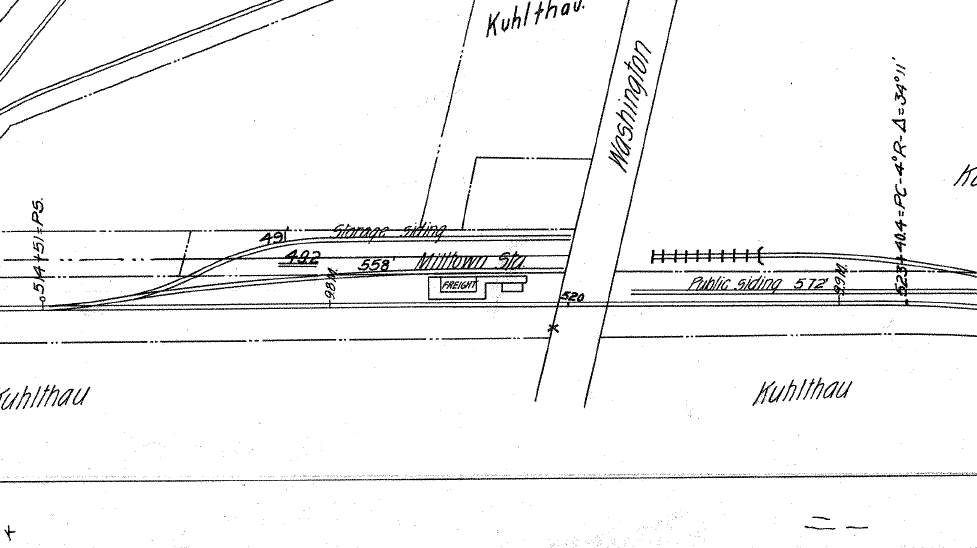 <![endif]>
Fig. 20
Original Milltown Station 1915
Milltown will continue to amaze us as we try to piece together the facts of this location.
This map from 1915 seems to show a Freight Station, but no mention of a Passenger Station.
We know that the current Milltown Freight Station that still stands in 2007, used to actually be the Passenger Station circa 1920-1938.
When passenger service ended in 1938, the RRRR moved it, raised it up to the height of a box car, and made the doors bigger to handle freight.
So why does this map from 1915 show only a freight station?
See this interesting picture of the Milltown Passenger Station from the 1920s.
<![if !vml]>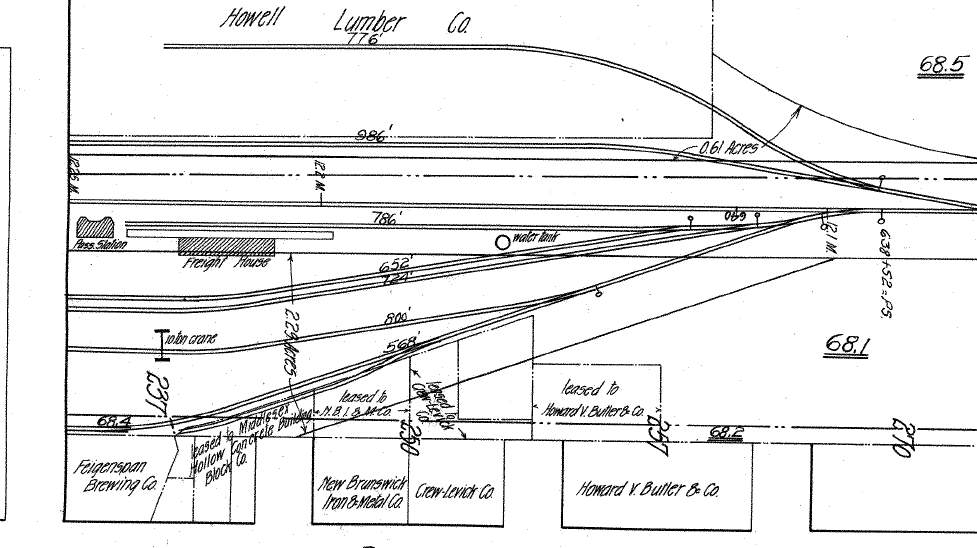 <![endif]>
Fig. 21
New Brunswick Stations 1915
Just a great shot of the New Brunswick Terminal from 1915.
Note the Passenger Station, Expanded Freight Station with extra long loading platform, Water Tower, and 10 ton yard crane.
Note the lack of any Express Building.
<![if !vml]>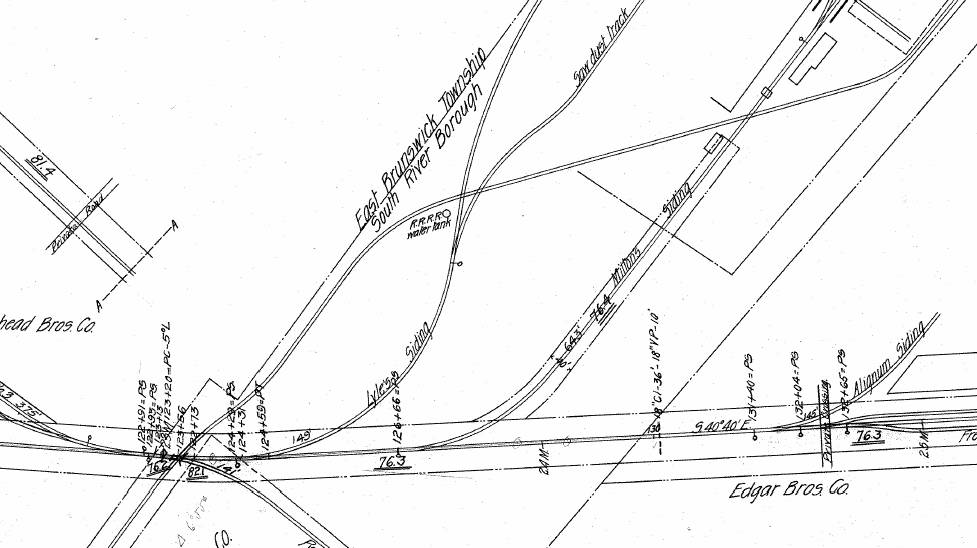 <![endif]>
Fig. 22
Serviss Branch with Shared Water Tank with Narrow Gauge Line 1915
The Serviss Branch is one of the most forgotten and complicated branches.
Note all the activity that once existed on this little branch.  In 1915 right at the South River East Brunswick boarder, Whiteheads had a major sand operation, Lyles, Miltons and National Pyrogranite had sidings, a Narrow Gauge line ran across the ROW at a switch, Edgars was here also, Alignum had a siding too.
It's interesting to note that it appears that the Raritan River Railroad even shared a water tower (marked at R.R.R.R water Tank) with the Narrow Gauge line right at the other crossing on Lyles Siding!
Truly Amazing!
<![if !vml]>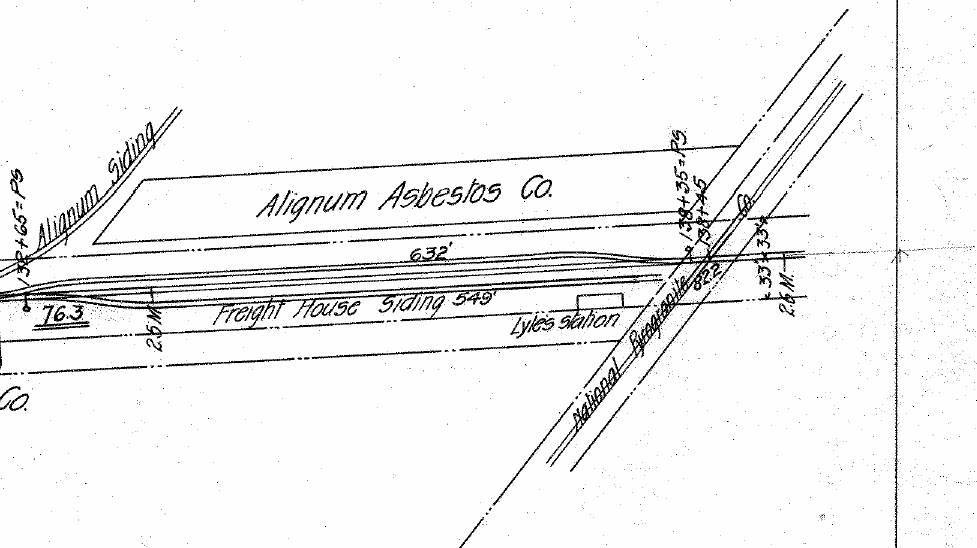 <![endif]>
Fig. 23
Lyles Station on the Serviss Branch 1915
But the most amazing thing to note is the reference to a small station; Lyles Station, right at the crossing of the RRRR and yet another Narrow Gauge line, National Pyrogranite Company's line in 1915!
Questions? Comments?
Here is an entire forum dedicated to discussions of the RRRR!
www.railroad-line.com/forum/forum.asp?forum_id=2