Tomís Raritan River Railroad Page
www.RaritanRiver-RR.com
<![if !vml]>

<![endif]>
Box Car 100
<![if !vml]>

<![endif]>
This car is so special it requires a page all to itself.
RRRR Box Car 100 was a forty foot car that was never used in interchange service.† Built in 1926, it was used internally and along the line to service customers.† It is unclear to me at this time exactly when Box Car 100 first appeared on the line, but it is clear that by 1970 it was seen, photographed, and being used locally.† Apparently it was set on fire in 1970, written off by the insurance, rebuilt, and re-used.† A few RRRR employees have mentioned this car to me, for it was quite a favorite.† I will note a few of their stories at the bottom of this page.
Please donít confuse Box Car 100 with the other one hundred, leased, 50 foot, 75 ton, box cars from U.S Leasing.† These one hundred cars, numbered 400-499 first appeared in 1975 and were indeed used in interchange service.†
<![if !vml]>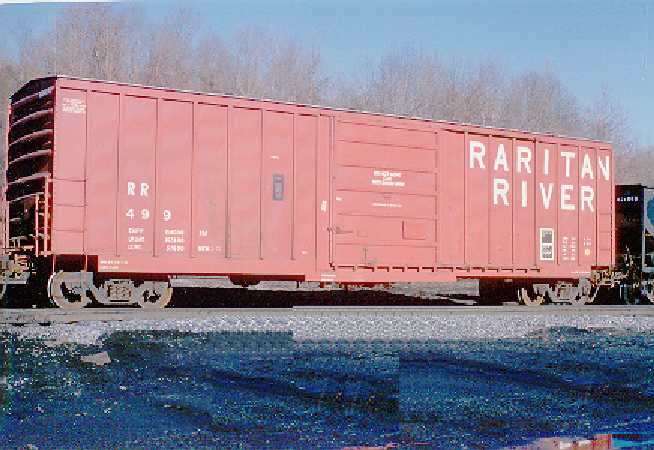 <![endif]>
Box Car 499 in Allentown, PA, late 1970ís
50 ft Ė 75 ton
Leased from US Leasing
Used in interchange service at least until Conrail era
For more photos of these leased cars and
Other fright cars of the RRRR, click (here)
But now back to Box Car 100Ö
Box Car 100 was a steel 40 foot box car that was never used in interchange service, although it was used locally by on-line customers.
<![if !vml]>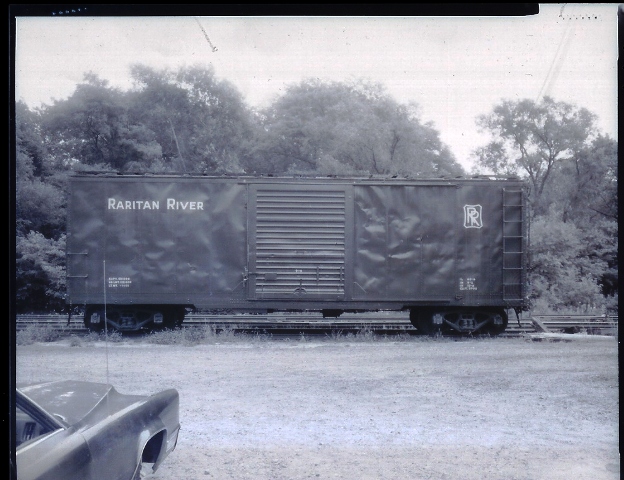 <![endif]>
Box Car 100 - Parlin 1970s
Side shot
<![if !vml]>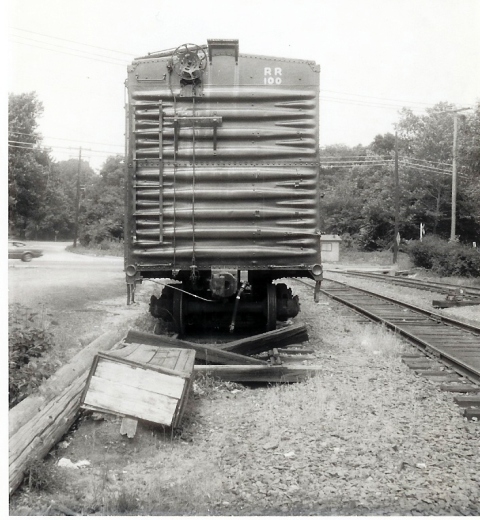 <![endif]>
Front shot
Parlin 1970s
<![if !vml]>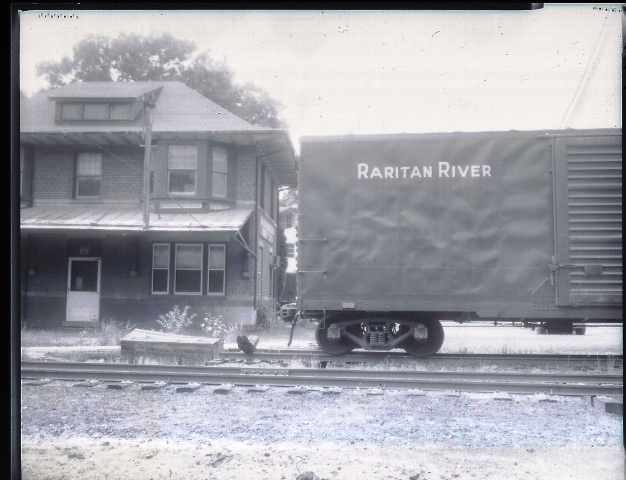 <![endif]>
Box Car 100 and the Parlin Station
Today, sadly, the Parlin Station is gone
<![if !vml]>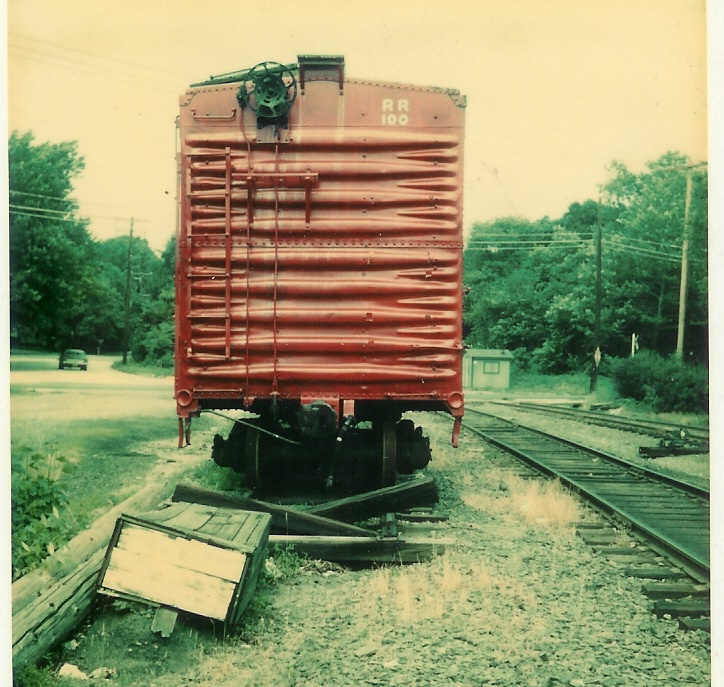 <![endif]>
Color shot of RR 100
Courtesy of George Rappelyea
<![if !vml]>
<![endif]>
The only full shot color photograph of Box Car 100
1970s
Courtesy of George Rappelyea
Sometime after it was rebuilt, and after these pictures were taken, box car 100 received a white strip along its side, probably to match the locomotives.
Once Conrail came around though, the car was renumbered CR 47163, and then disappeared.† Most thought it was just torched for its scrap value.† All the engines were scrapped so it was figured so was the box car.
But wait, it appeared in the mid 80ís in a Conrail yard in Lancaster, PA being used as storage shed!† RRRR Box Car 100 survived!†
As noted by http://crcyc.railfan.net/mow/storage/mwstorage.html
<![if !vml]>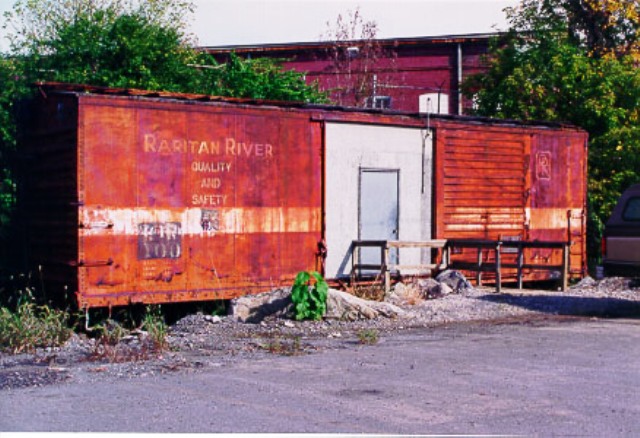 <![endif]>
Conrail Box Car 47163
Former RRRR Box Car 100
Lancaster, PA 1990s
Shortly after Conrail was sold to NS/CSX, Box Car 100 went missing again.† Surely she was sold for scrap this time, with being so old and non-interchange ready, what could her fate possibly be?
In summer 2002, my wife and 3 kids were driving through Quakertown, PA.† This town has a wonderful old Reading passenger and freight station being used by the East Penn Railway, a short line that operates around Pennsylvania.†
<![if !vml]>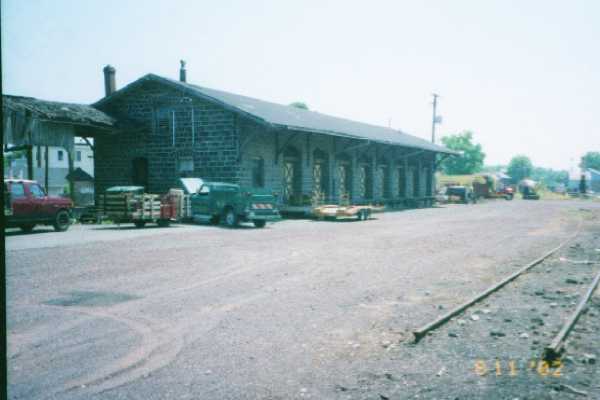 <![endif]>
Quakertown Freight Station 2002
<![if !vml]>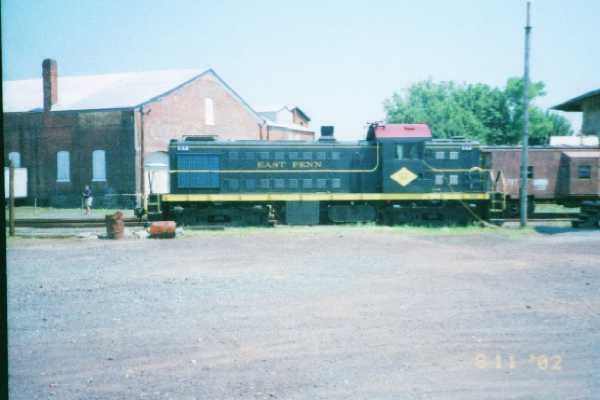 <![endif]>
East Penn Railway Engine
Parked at Quakertown, PA
<![if !vml]>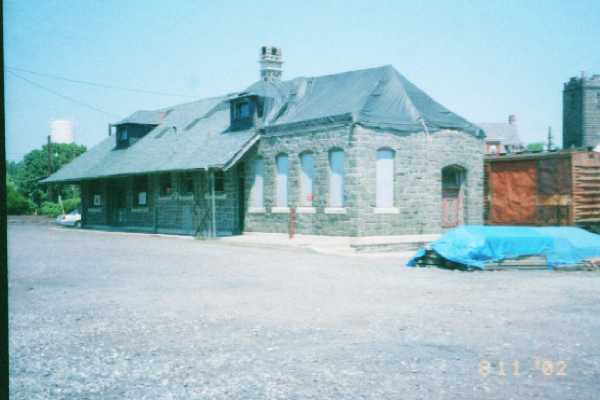 <![endif]>
Quakertown Passenger Station 2002
As we were driving past the station I saw the usual assortment of cars, cabooses and engines.
But then something caught my eye.† Something old.† Very old.† Very rusty.† Very hard to make out.†
Just then I could make out the writing on the top right of the carÖ.its the logoÖthe logo said RR.† RR?††
<![if !vml]>

<![endif]>
RR Logo on Box Car in Quakertown
I screamed at my wife to stop the car, I jumped out, and I ran back to the station.† How could it be here?† It was really unbelievable!† I didnít believe my eyes at first and thought it was a fake.† I mean, come on!† Why would someone have saved this car all these years?
<![if !vml]>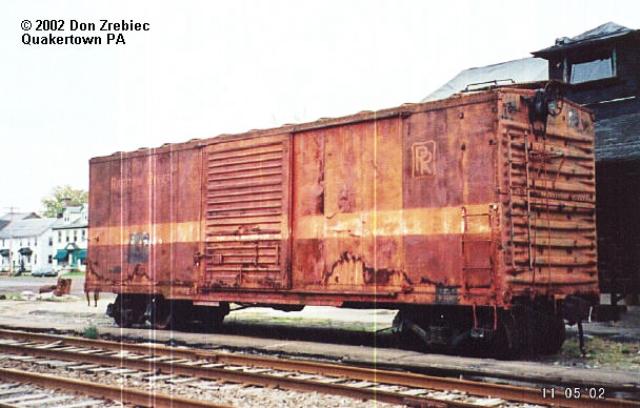 <![endif]>
RRRR Box Car 100 in Quakertown, PA 2002
Apparently, someone saw the car just before it was to be scrapped and paid for it and had it shipped to Quakertown!
<![if !vml]>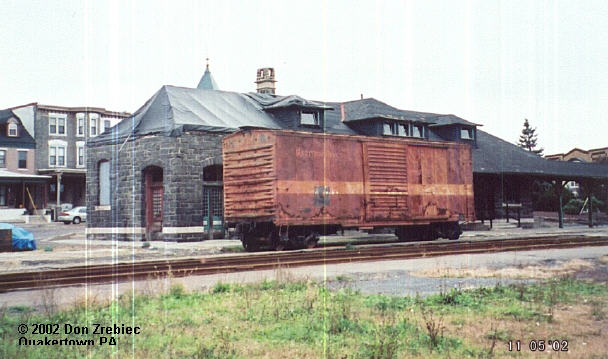 <![endif]>
RRRR Box Car 100 in Quakertown, PA 2002
<![if !vml]>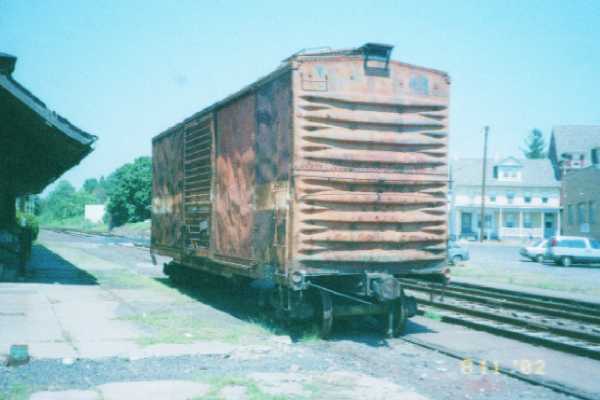 <![endif]>
RRRR Box Car 100 in Quakertown, PA 2002
<![if !vml]>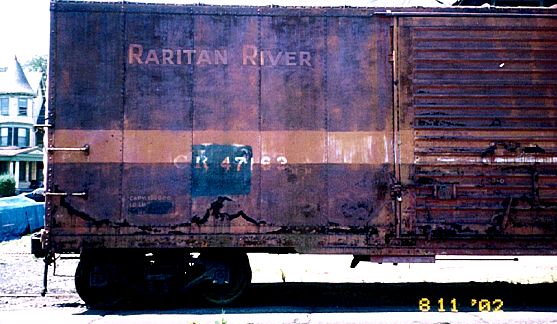 <![endif]>
RRRR Box Car 100 in Quakertown, PA 2002
Note the CR 47163 numbers
Today RRRR Box Car 100 is owned by the people who also own the Quakertown Stations, and they plan to use it to store things while they restore the stations.† Someday, if time permits, they hope to also restore the box car.† Long live Box Car 100!
E-Mails\Stories
From E-mails I received relating to Box Car 100
††††††† Tom,†††††††††††††††††††††††††††††††††††††††††††††††††††††††††††††††††††††††††††††††††††††††††††††††††††††††† .

I worked on the RRRR during summers while in college and for a short
time as a full time employee.
I saw the pictures on your web site of the 40' boxcar #100. During one of
my summers, 1970 I think, this car was headed to Personal Products in
Milltown. The car carrying rolls of cotton was set on fire by vandals and
smoldered for days. The car was totaled by the insurance company and kept
by the railroad and restored that summer along with refurbishing a caboose
acquired from the Reading. This hack replaced a damaged caboose that had
what amounted to an observation deck and only one coupler on on the opposite
end. This hack was to head up a work train after a snow storm to clear and
"burn" switches. Ice encased switches would be doused with kerosene and set
afire to melt the ice.

I also had the "pleasure" of swinging the South River Bridge many times and
helped in it's re-decking after it's renovation during this approximate time
period.

Nice web site. Keep up the good work,
John Cooney
NOTE:
The most interesting thing is that this repaired caboose also survives today!
<![if !vml]>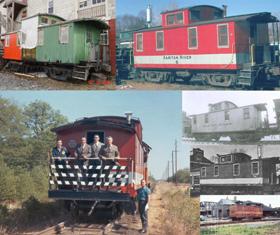 <![endif]>
For more info how I found the Caboose,
See† http://www.raritanriver-rr.com/RRRRCaboose8.htm
Contact me; Iíd love to hear your comments and stories:
Other Fine Sites Dedicated to the Raritan River Railroad
http://www.geocities.com/transit383/rrhist.html
http://jcrhs.org/raritanriver.html
Here is an entire forum dedicated to discussions of the RRRR!
www.railroad-line.com/forum/forum.asp?forum_id=2